Brian Daniels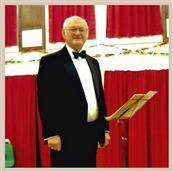 Brian Daniels is a published and prizewinning composer of organ, choral and chamber music. Whilst church and organ music is his main output, his recent contribution to brass and wind band work is the result of his experience as a bandsman in his youth when he played Trombone and Euphonium. Brian has also written for string orchestras and quartets and has had several commissions. He has had many works performed in the annual Wells Cathedral Diocesan Choral Festival over the years.

He took up his first organ appointment at the age of 14 and during National Service from 1954 to 1955 was the organist at Catterick Garrison Church.

He gained the ARCM in 1967 and the ARCO a few years later. Over the years, Brian has composed a number of pieces for various media but more serious composition came later in life after retirement from the Civil Service in 1990.

In addition to his 'stable diet', Brian is currently pursuing the use of brass and wind band as media for orchestral transcription. Elgar's use of the brass band for his Severn Suite was an inspiration behind the transcription of the Caratacus March for the medium. Other projects include the use of small brass ensembles as chamber groups; similar in essence to the string quartet.

As regards to technique, Brian believes the formalities of his early training, due to his rigorous mentor Clifford Brown of Sidmouth, has held him in good stead. In addition to technical prerequisites, this involves striving to make all parts interesting to the player or vocalist and not using them as mere ingredients for melodic accompaniment.
His 'golden rule 'perhaps might be that a musical staff is not an instrument; it is essentially people, a person or part of one!

Brian is currently Musical Director of the North Curry Village and District Choir, Somerset.