John Holland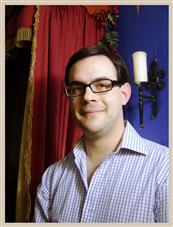 John was born in Hastings in 1977 and was raised in Watford. He moved to south London in 2004 with his life partner, Chris, and now lives around the corner from the world-famous Horniman Museum in Forest Hill.

John is self-taught as a composer/arranger and has worked with a number of brass/wind/military bands, as well as pit bands and orchestras through the years. Whilst in 1280 (Rickmansworth) Air Training Corps wind band, he played at several RAF bases up and down the country for Officer's Mess dinners and arranged most of the music for these events. He regularly contests with Moulton 77 brass band (Northampton), usually on percussion, but can be found playing most wind/brass instruments, including alto/bass clarinet, tenor/baritone sax and trombone/euphonium (principal instrument).

His chamber orchestra piece 'Green Sky' won the Making Music Award at the British Composer Awards 2008 and this has since led to commissions from a variety of artistes. The world premiere of his Requiem (Opus 15) takes place in South London during Easter Week 2009.