Keith Terrett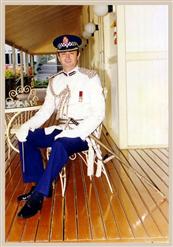 Keith Terrett (b.1956), is a composer, arranger, conductor, band trainer, IB music educator (PYP, MYP & DP) & instrumental teacher of international standing, trumpeter, cornettist, flugelhornist & multi-instrumentalist born in London.
Keith joined the British Army at the age of fifteen, studying the Bb Cornet at the Army band school in Bovington, Dorset.
At 18 he became the principal Cornet/Trumpet to the «Band of the Queen's Royal Irish Hussars» (a cavalry regiment), stationed in West Germany. He has toured the USA, Canada, Northern Ireland, France, Belgium and Holland during his military service.
During his Bandmaster's course at the Royal Military School of Music, Kneller Hall, Keith won the prestigious Commandant's prize for the best quick march; now published in the USA by Echelon Publishers in Texas.
After retiring from the army in 1990, Keith took up a position as «Head of Instrumental Music» and «Band Director» to school's in the Cayman Islands, British West Indies.
From 1993-4, Keith was a «Lecturer in Music» at the «Faculty of Creative Arts, »University of Papua New Guinea», and from 1994-99, «Principal Director of Music» and «Chief Instructor» at the rank of Superintendent/Lt. Colonel, to the world famous «Band of the Royal Papua New Guinea Constabulary»; touring Australia and Japan in 1996 & 1998; raising money for the Red Cross.
While in Papua New Guinea, Keith arranged many local folk pieces, leaving a musical legacy behind when he left. Many of these works are now published in Holland, the UK and USA.
After a brief spell teaching in the United Kingdom in 1999, Keith's interest in ethnomusicology took him to the Middle East for a year, where he taught classroom music in an international school in Kuwait City; giving him a chance to study Arabic musicin detail.
From 2001-2006, Keith taught instrumental music in a specialist music school in Kviteseid, Southern Norway; where he was also the town band director of Kviteseid hornmusikk. During his time in Norway, Keith was invited to guest conduct His Majesty's King's Guard Band in Oslo, and ran music seminars with the Norwegian composer Idar Torskangerpoll. Keith had his first piece of music published in Oslo with Musikk Huset AS; entitled The Gypsy Violinist in New Orleans.
During his diverse career, he has performed with many artists and orchestras including Harry Mortimer, Geoffrey Brand, Jesse Norman, Iona Brown, Engelbert Humperdink, Sir John Pritchard, London & BBC Concert & Symphony Orchestras and the Kneller Hall Band. He has even appeared as a trumpeter on «This is your Life» with Eamon Andrews for the 85th birthday of Sir George Solti! A highlight was his appearances for three consecutive years in the annual Christmas Bach Choir Concerts in the Albert Hall, with Sir David Valentine Willcocks, HRH The Duchess of Kent, the London Brass, as a member of the world famous Kneller Hall Fanfare Trumpet Team.
His trumpet teacher at Kneller Hall was the legendary Ian Mackintosh (son of the immortal Jack Mackintosh) Principal Trumpet of the BBC Symphony Orchestra. During his time at Kneller Hall, Keith had the opportunity to study all brass, woodwind and percussion instruments; under leading London players. In addition he studied conducting with Frank Renton, orchestration with Trevor Sharp, and harmony and composition with Professor Gordon Reynolds, Peter Byrne & Roger Swift. Keith has also studied jazz trumpet with Dick Pearce & Bobby Shew, and composition with Stanley Friedman.
Keith is an internationally acclaimed composerarranger, writing in all genres from full orchestra, brass band, and concert/wind band, to music for string quartet, brass ensemble, saxophone group, clarinet choir, recorder consort, oboe consort, and even for the harmonica, steel pan and accordion! In 2010, he has become a composer for the Alfred Publishing company in the USA, with his best selling original composition for young symphonic band entitled ''Fallen Heroes''.
His music is published worldwide such as:England, Belgium, Austria, Wales, Canada, Holland, Switzerland, Germany, the USA and Norway.
Keith has studied with, and gained academic musical qualifications from the Royal Military School of Music, Kneller Hall, The Open University, Trinity College of Music, Royal College of Music, Royal Academy of Music, London College of Music, and the Bandsman's College of Music in Manchester.
As a conductor, band trainer, composer & arranger, Keith is in demand world-wide, and has guest conducted at band seminars in Norway & Malaysia. Keith is available for your next band seminar; book early to avoid disappointment!
Keith is currently 'Head of Performing Arts' & 'Director of Music' at Pathways School (Gurgaon) in India, where he has worked since 2010, both at Pathways Aravali campus and since 2014 at Pathways Gurgaon.

Visit Keith's Sibelius Music Store at: "The Score Exchange"