Simon Haw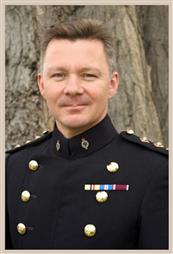 Captain Simon Haw began his career as a trumpet player at an early age performing with various Youth Orchestras in the West Country. By the age of 16 he was selected for the National Youth Orchestra of Great Britain. A growing interest in composition prompted him to take a Graduate diploma in Contemporary Composition at Huddersfield Polytechnic in 1986.

In 1988 he joined the Army and the band of the Welsh Guards as a Trumpet player. He later became their Staff Arranger. In 1997 he was selected for the 3 year Student bandmaster course at the Royal Military school of Music Kneller Hall. Upon graduation in December 1999, he was awarded the Worshipful Company of Musicians Medal for Best All Round Student Bandmaster of the year and a Batchelor of Arts Degree from Kingston University.

Simon was appointed Bandmaster to the Prince of Wales's Division (Clive) in February 2000, and to the Band of the Adjutant General's Corps in September 2003. He took up his present appointment as Director of Music of the Minden Band of the Queen's Division in July 2005.