Vernon Mais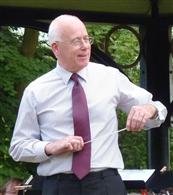 Vernon is an analytical chemist working for the Environment Agency in Leeds and is a Member of the Royal Society of Chemistry. He initially took up the clarinet at primary school, but later started playing guitar with encouragement from his grandparents. At school he opted for a scientific career, reluctantly dropping his music studies and attending Leeds Metropolitan University. Once his Chemistry studies were completed Vernon resumed studying music at Leeds College of Music, where he met his wife Lesley who is also a clarinettist.
Vernon has played in local amateur orchestras, playing clarinet for many years. He had also played lead clarinet with the James Farrell Concert Band before taking up the baton in October 2005. He has attended conducting courses run by "Sing for Pleasure", and with Mark Herron and the North Cheshire Concert Band.

More recently he started taking viola lessons and plays in the orchestras at North Leeds Music Centre. Vernon continues to play in other local amateur orchestras, but is now more likely to be found in the string section. The clarinet has not been abandoned as Vernon plays his clarinets in wind quintets, clarinet choirs and more recently the Yorkshire Clarinet Ensemble where he enjoys convincing people that the alto clarinet is an unfairly neglected member of the family.
Whilst being Director of Music of the James Farrell Concert Band Vernon has done some arrangements of his own. More recently he has been enjoying dabbling in a little composition.