Spirit of Normandy - Quick March
| | | | | |
| --- | --- | --- | --- | --- |
| | | | | |
| | | | | |
About This Work
"Spirit of Normandy" composed by David Gilbert, is dedicated to Major-General John ("Jack") Churcher, CB, DSO and Bar. David decided to write this march as a tribute to a fine friend and soldier in recognition of Churcher's exploits in Normandy after D-Day, and later in his role as President of the Normandy Veterans Association. Written in traditional style this tuneful and foot-tapping march has a contemporary feel with a strong melodic line and jaunty 6/8 rhythm. Ideal as concert or parade march this spirited composition by David Gilbert is a fine tribute to a distinguished soldier and friend.
Featured
New
Composer
David Gilbert
Category
Concert/Parade Quick March
Duration
Circa 3 mins
Difficulty
This piece has difficulty rating of 2 on a scale one through 6, with 6 being the hardest. Click here to see how we grade our band sets.
Instrumentation
Conductors Full Score
Piccolo
Flutes 1-2
Oboe
Bb Clarinets 1-2-3
Bb Bass Clarinet
Eb Alto Saxophones 1-2
Bb Tenor Saxophone
Eb Baritone Saxophone
Bassoon
Horns in F 1-2
3rd Horn in F
Bb Trumpets 1-2-3
Tenor Trombones 1-2
Bass Trombone
Euphonium
Basses
Side Drum / Cymbals / Bass Drum
Glockenspiel
Double Bass
Parts Supplied
For a full list of parts supplied under our free postage scheme, please visit FAQ's.
Catalogue No.
MAJOR-GENERAL JOHN ("JACK") CHURCHER, CB, DSO AND BAR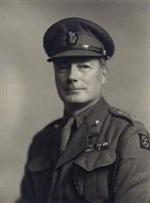 Major-General John Churcher ("Jack") was educated at Wellington and Sandhurst before being commissioned into the Duke of Cornwall's Light Infantry in 1925. By 1931, he was an instructor at the Machine Gun School at Netheravon where for a while one of the trainees was David Niven, later Sir David Niven; he recalled that Niven was fun, but totally irresponsible.
At the time of the fall of France, he and his Division were left in the Southern sector of France where the French advised him that he would have to surrender. This was not in Jack's vocabulary so he somehow got a call through to the War Office and persuaded them to send a paddle steamer to pick them up. When he got back, he went to the War Office, to be told that as far as they knew he was dead!
He landed in France a few days after D-Day in command of the 1st Herefordshire Regiment (TA) in 159th Infantry Brigade, part of General 'Pip' Roberts' 11th Armoured Division. His first DSO was awarded for his part in Montgomery's Epsom offensive a few weeks later. His division was then charged with the taking of Zeebrugge before daylight to avoid the dock gates - vital for access to the canal system - being blown up by the Germans. This was successfully carried out.
He took part in a number of memorable and sometimes bizarre events, including the capture of Vimy Ridge without a shot being fired, and the advance across the Seine to liberate Antwerp. When his division took that city, he locked his German prisoners in the empty cages in the Zoo. The Red Cross then instructed him that he must not do this: he replied that by the time the report was dealt with, he would be dead or we would have won the war! He led the Division in the Crossing of the Rhine, and in the final advance to the Baltic, where he arrested the Doenitz Government at Flensburg.
He later rounded up Himmler, Speer (who was arrested in his bath), and Lord Haw Haw among others; he was personally presented with the gold-decorated baton of Grand Admiral Doenitz, which is now on display in the Shropshire Regimental Museum. His second DSO was awarded in 1946 for his outstanding Ieadership of 159th Brigade during the campaign and its aftermath.
Jack's superb achievements and man management resulted in the award of the CB, DSO and Bar, and the Croix de Guerre. Those who served with him came to admire his professionalism and disregard for his own safety, never committing his troops to battle without ensuring that they had the best possible chance of survival.
He attended the Imperial War College in 1948, and went on to series of key appointments:
Brigade General Staff, Western Command 1949-53: Chief of Staff, Southern Command, 1951-54; General Officer Commanding, 3rd Division 1954-57 (including the Suez Operation): and finally Director of Military Training in the War Office, 1957-59. He was appointed CB and aide-de-camp to the King in 1952.
His Military Service ended in 1959, and after a number senior posts in business and industry, he retired and moved to Oaks Drive in Colchester.
For a number of years, John Churcher served as President of The Normandy Veterans Association, which was launched in 1981 and became a national association in 1985. Churcher died in August 1997, aged 91 years, and is buried at St. Mary's churchyard, at Wargrave, in Berkshire.
There are no comments on this product.
Send us your comment on this product