Major Gerald Edmund Horabin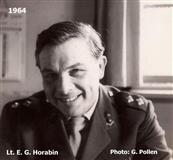 MAJOR EDMUND GERALD HORABIN LRAM, ARCM, psm
(Born on 23 July 1925-died on 11 September 2008 at Frimley Park Hospital, Surrey)

Gerry's military career had begun way back in 1940, when as a young 15 year old he joined the South Lancashire Regiment on boy service. He couldn't play a musical instrument, but ended up in the battalion band and was given an oboe to learn. Once he settled down to army life and progressed onto man-service, he began to earn the reputation as a fine sportsman, eventually becoming battalion boxing champion and representing the regiment at both boxing and rugby. His natural leadership qualities were also recognised and he soon gained promotion, rising rapidly through the ranks to become at the time the youngest Band Sergeant in the army.

On the musical front, Gerry was largely self-taught. He had wanted to go to the Royal Military School of Music, Kneller Hall, on the one-year Pupils Course to gain a better musical education, but his bandmaster refused to let him go, as being the only oboist he was needed in the band. So when Gerry decided that he wanted to become a bandmaster, he was understandably concerned whether his musical standard was high enough to cope with the academic rigours of the Bandmaster Course. He was pondering these thoughts on the journey to Kneller Hall when he saw a placard saying 'Take Courage', which was the advertising slogan of the brewery, so he thought 'what a good idea' and promptly stopped off at the nearest pub and had a couple! Arriving at Kneller Hall, Gerry joined the Coronation Class with fellow students Peter Parkes, Bill Allen and David Snowden; all destined to become distinguished Directors of Music. Gerry's concerns over his musical abilities proved groundless, as by the end of the course, 3 years later, he won the Choral Competition and gained 1st Prizes for both Conducting and Brass Band arranging, additionally passing the examinations for both the LRAM and ARCM music diplomas. Following graduation, he was promoted to Warrant Officer1st Class and appointed bandmaster of the 7th Queen's Own Hussars on 21st May 1954 - the beginning of what promised to be a glittering career as Regimental Bandmaster.

In 1958 a round of cuts in the army (a familiar story) resulted in the 7th Hussars and 3rd King's Own Hussars amalgamating to form a new regiment - the Queen's Own Hussars. Gerry became bandmaster of the new regiment, and it was his arrangement of Light Cavalry that was adopted as the new Regimental March. By 1961 Gerry had passed the necessary exams and was duly commissioned as mentioned earlier as Director of Music, Royal Engineers Aldershot, in 1962. Under his direction the band enjoyed a particularly successful period, with regular broadcasts, not only on Music While You Work and Friday Night is Music Night, but also the prestigious BBC Third Programme, featuring brand new cutting-edge symphonic wind band music - Not bad for a minor staff band! The orchestra also appeared in Richard Attenborough's film 'O What a Lovely War' with Sir Lawrence Olivier, John Mills and Michael and Vanessa Redgrave, though it has to be admitted that the orchestra was chosen not particularly for their musical standards, but because their ceremonial uniforms were from the right historical period. Coincidentally the band of the Irish Guards also made a brief cameo appearance in the same film.

In August 1968 it was time for Gerry to take up his final appointment. The legendary 'Jigs' Jaeger has been Director of the Irish Guards band for the past 21yrs; he was leaving to become Director at Kneller Hall. His was a hard act to follow, and there was much agonising over who would be capable of following in his footsteps. The choice of Captain Gerry Horabin was undoubtedly the right one, as he as now recognised as being one of the finest natural musicians and charismatic characters to have graduated from Kneller Hall since the war, and he soon put his own individual stamp on the band and made it his own.

Promotion to Major followed on 17th March 1972, which of course also happened to be 'Paddies Day' so you can imagine the ensuing celebrations! In November 1974 Major Horabin received the ultimate accolade of being appointed Senior Director of Music, Guards Division, finally retiring from the army in 1977. However, his influence on military music didn't end there as he was subsequently head-hunted by Boosey and Hawkes musical instrument manufacturers as consultant and musical advisor for overseas sales, visiting 46 countries, giving advise and training to bands. Gerry was indeed one of life's true characters; a loveable rogue with a bright, incisive mind and a wicked sense of humour. He was highly regarded and much respected by all. His passing in some ways marks the end of an era and there is no doubt that he had a lasting influence in the world of military music. He will be sadly missed and remembered with affection by all those who had the privilege of knowing and working with him.
Written by Major Roger Swift (ret.) Ex-Director of Music of The Regimental Band of The Coldstream Guards.