Alan Beaumont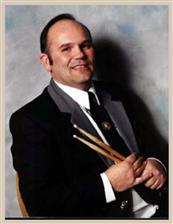 Alan Beaumont started his musical career in the 1960's at Ushaw Moor Salvation Army on Cornet. In 1974, he joined the Light Infantry as a Regular Army Musician, moving to Percussion in 1986. In 1990 he attended The Royal Military School of Music, Kneller Hall for a two year course on Percussion under the tuition of Paul Cameron, and won the Denis Brady Memorial Prize for "Best Percussion Pupil of the Year" (1990). He was posted to Headquarters Army Music in 1993 as part of the Training Development Team responsible for training all of the Army musicians and stayed in this post for 5 years. Alan retired from the Army in August 1998, and joined the Bearpark & Esh Colliery Band in September 1998 where he teaches the Percussion learners.

Alan has played with many of the North East's brass bands and more recently has performed in 'pit orchestras' for local operatic societies, something he really enjoys. He is also a successful composer and arranger.

In 2005, he attended and passed a conducting course run by Ray Farr at Durham University. Conducting is something else that Alan enjoys.