Dmitry Varelas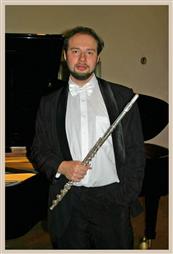 From 1985 to 1996 Dmitry Varelas studied at the Republican Special Musical school named after V.Uspensky and finished with the red diploma as flutist, composer and musicologist. From 1996 to 2000 he studied at the Tashkent State conservatory named after M.Ashrafi completing his Bachelor Degree from 2000 to 2002 and Masters on Flute and composition.

In 2002 he entered to the Sibelius Academy in Helsinki (Finland) (degree student) as Flutist.

He is the winner of the Republican competition in Karshi (Uzbekistan) (1993), the participant of the International competitions in Markneukirchen (Germany) (1997) and ARD Munich (1999). The participant of the International festivals of contemporary music "Ilkhom-XX" (1995-2002). The participant of the master-class with Renate Greiss Armin (2002), Henrik Svitzer(2003), Moshe Aron Epstein (2005), Michel Debost (2005), and chamber music mastercourses of prof. Ralf Gothoni (2004-2006).

He has played many recitals and in numerous chamber music concerts. In his vast repertoire are compositions of the different composers, such as classical, romantic, and contemporary music.

During the period from 1997 to 1999 he worked as a regulator of the flute group at the State Academic Bolshoi Theatre named after A.Navoi. From 1999 to 2002 Dmitry worked as leader of the flute group and the first solo flute at the National symphonic orchestra of Uzbekistan.