Prince George of Cambridge's Welcome
| | | | | |
| --- | --- | --- | --- | --- |
| | | | | |
| | | | | |

Digital Download available for only £14.99!
About This Work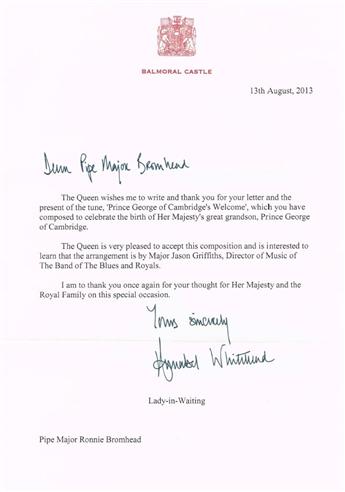 "Prince George of Cambridge's Welcome" was composed by Ronnie Bromhead while flying to Boston USA to conduct a Bagpipe workshop. His headphones didn't work on the plane so he started to hum the tune and then wrote it down on the back of the in-flight magazine. He then worked on it when he returned home and then had to wait for news as to whether the Royal couple would give birth to a boy or girl. The work is a musical welcome to Prince George who was born on the 22nd July 2013. In a letter from Balmoral Castle dated 13th of August 2013 Her Majesty the Queen said that she is "very pleased to accept this composition and is interested to learn that the arrangement is by Major Jason Griffiths, Director of Music The Band of The Blues And Royals".

This new Pipe tune has been arranged in traditional style for Concert Band by Jason Griffiths and ideal for the concert hall or on parade. A topical tune to mark an important Royal occasion.
Featured
New
Composer
Ronnie Bromhead
Arranger
Jason Griffiths
Category
Concert Band & Bagpipes
Duration
Circa 2 mins 10 secs
Difficulty
This piece has difficulty rating of 1.5 on a scale one through 6, with 6 being the hardest. Click here to see how we grade our band sets.
Instrumentation
Conductors Full Score
Piccolo
Flutes 1-2
Oboe
Bb Clarinets 1-2-3
Bb Bass Clarinet
Eb Alto Saxophones 1-2
Bb Tenor Saxophone
Eb Baritone Saxophone
Bassoon
Horns in F 1-2
3rd Horn in F
Bb Trumpets 1-2-3
Tenor Trombones 1-2
Bass Trombone
Euphonium
Basses
Side Drum
Cymbals / Bass Drum
Glockenspiel
Parts Supplied
For a full list of parts supplied under our free postage scheme, please visit FAQ's.
Catalogue No.
There are no comments on this product.
Send us your comment on this product